BECOMING A ZEBRA - EARLY ENROLLMENT for Pre-K & New K Who: New PK - New Kindergarten students that did not attend PK here in Claremore Schools. Date: March 8-12, by appointment. Bring: Documents required for enrollment at Claremore Schools. No child will be enrolled without the following information and up-to-date immunization records. ✅ Birth Certificate - Age Requirements are: Early Childhood students must be 4 years old by September 1st. Kindergarten students must be 5 years old by September 1st. ✅ 2 Proofs of Residency (may include utility bill or utility deposit, and a lease agreement, mortgage statement, or county tax statement. P.O. Box addresses are NOT acceptable.) ✅ Immunization Record (must be up-to-date) ✅Parent/ Guardian Driver License ✅CDIB Card (Native American citizenship registration card) if applicable. For more info go to bit.ly/2Mg8Lbv #CPSZEBRAPRIDE

CHS NJROTC Commander named Rotary Star When Murry Estabrook retired from his active- duty assignment as an officer in the Navy of the United States he took his commitment to service with him. His record of "service above self", the motto of Rotary International, made him the obvious choice to be recognized by the Claremore Reveille Rotary Club as the first recipient of the club's "YOU are a Rotary Star Award." Read more -
https://www.claremore.k12.ok.us/article/415737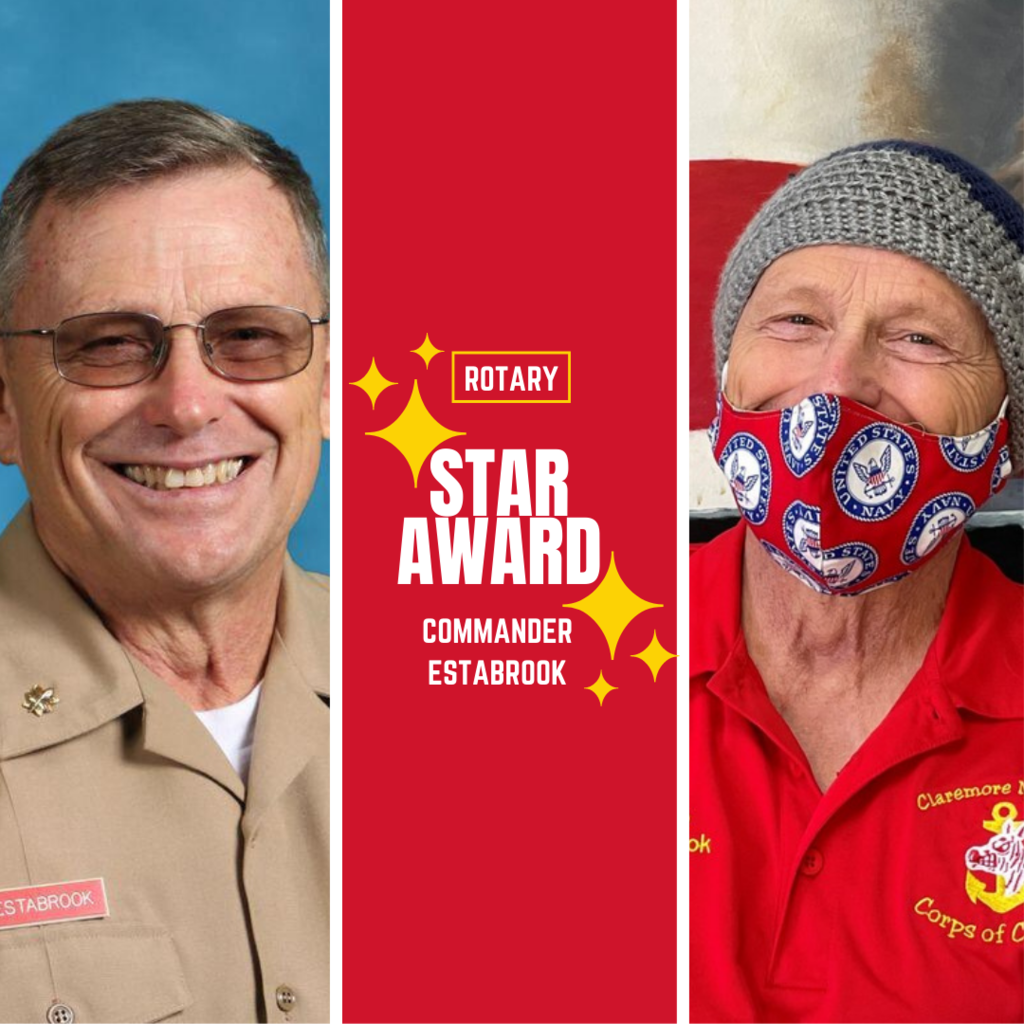 It's not Christmas, but the Grinch came by Catalayah Elementary this week to celebrate Dr. Seuss's birthday. He traveled around from room to room and let the students Drop Everything And Read to him. #CPSZEBRAPRIDE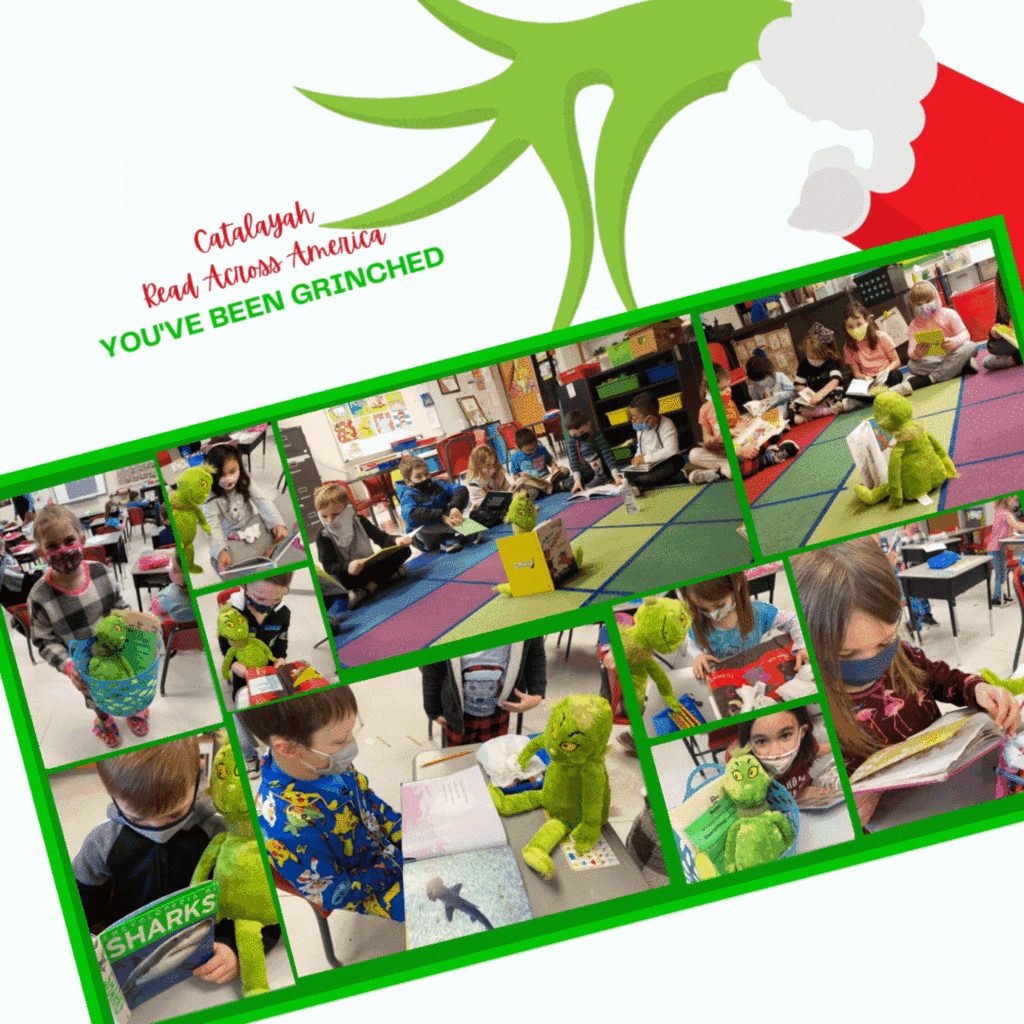 We keep adding babies to our dazzle of zebras this school year. Congratulations to Mrs. Sarah Armbrister, 2nd grade teacher at Westside, on June Elise Armbrister's birth! She's adorable! Her students and #ZEBRAFAMILY are glad to have her back in the classroom! #CPSZEBRAPRIDE

PUBLIC SERVICE ANNOUNCEMENT - Where can you receive a COVID-19 vaccine in Claremore? If you are interested in receiving the COVID-19 vaccine here is a list of local POD sites we have been made aware of this week. Currently, they are providing vaccines for those in the phase two category.
https://5il.co/qars
#CPSZEBRAPRIDE #StaySafeToStayInSchool

Spring Break Meals will be available for all children from March 15-21. Meals will be provided for seven (7) days. Pick up will be on Monday and Thursday to manage product quality and help relieve storage issues for our families with multiple students. 🍽 Monday 3/15/2021 (receive meals for Mon/Tues/Wed) 🍽 Thursday 3/18/2021 (receive meals for Thurs/Fri/Sat/Sun) Order here:
https://forms.gle/icf3bWMp4q8My9vD7
🗹 ORDER DEADLINE: Wednesday March 10, 2021 🗹 PICK UP LOCATION: Pick up all meals at the Enrollment Center (101 W. 11th Street) 🗹 Pick Up TIME: 10:30 AM and 12:30 PM REMINDER - these meals are available to ALL children 18 years of age and younger, including siblings of school age children and are FREE! Read more on our website:
https://www.claremore.k12.ok.us/page/child-nutrition
. Contact:
jragland@claremore.k12.ok.us
or 918-923-4243 #CPSZEBRAPRIDE

Ms. Brassfield's Botanical Buddies at Catalayah had a "ball" coding. Mrs. Hall introduces students to the STEM principles they will take with them as they move through the CPS system. Mrs. Brassfield loved it when the students programmed the bot to say, "Hi, Teacher!" #CPSZEBRAPRIDE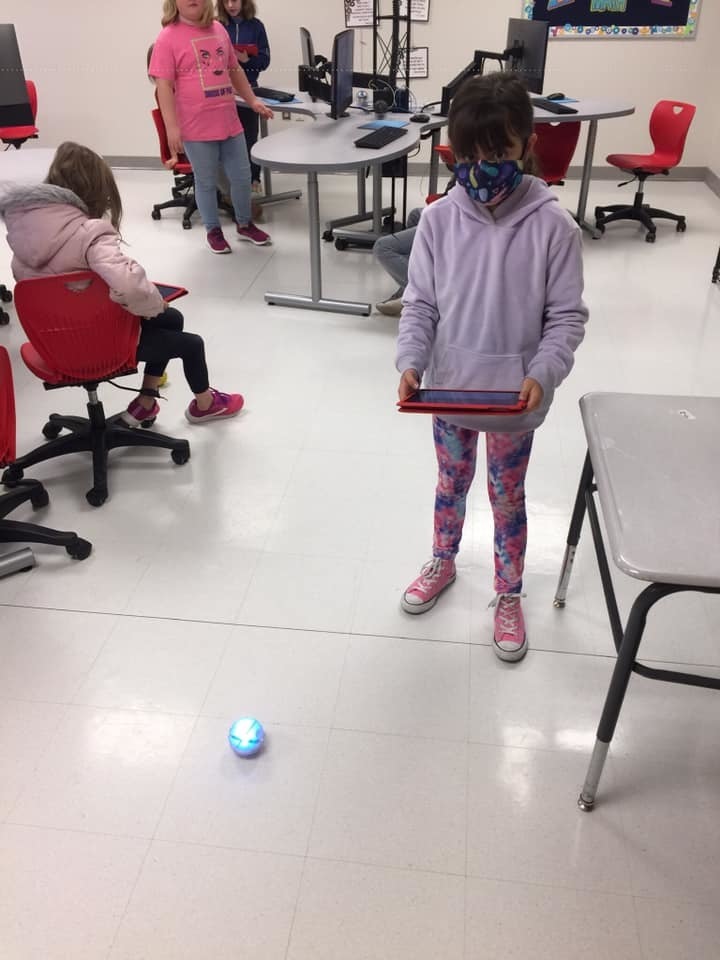 Competition + Mistakes = Active & Engaged Learning Mrs. Stout's geography students compare and contrast the different government systems in Africa by creating a collaborative Venn diagram. They took turns placing items on the diagram and then worked together to correct their mistakes. All of the classes completed their Venn diagram, but her 6th hour did it in only 4.5 minutes. #CPSZEBRAPRIDE

THE TROPHY FINALLY ARRIVED!!!! This year has thrown some very difficult obstacles our way, but the CHS Dance Team was lucky enough to be able to compete (even if it was virtually) at state this year AND WIN! "5A hip hop was one of the larger categories at state this year and the we are so proud of the hard work that these girls have put in to fight for this title," Coach Warden. If you see any of the dancers, please help us in congratulating them! It's a GREAT DAY to be a ZEBRA!!! #CPSZEBRAPRIDE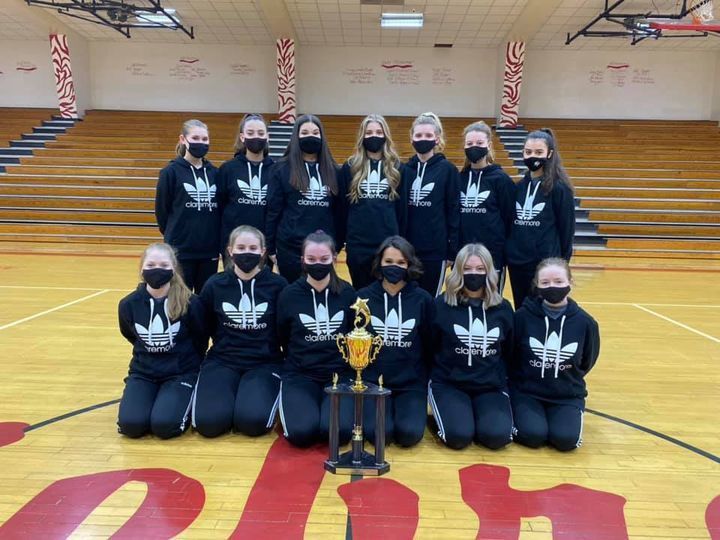 THEIR FIGHT IS OUR FIGHT Cancer may feel like someone else's fight if you have not experienced it in your own life. But CHS has decided THEIR FIGHT IS OUR FIGHT! Over the past four years, the ZUAC (Zebras United Against Cancer) Committee has helped raise over 9K to help our ZEBRA family members fighting this disease directly. We have supported students & employees with Lymphoma, Prostate Cancer, Leukemia, Ewings Sarcoma, Breast Cancer, & Pancreatic Cancer in our elementary schools, our junior high, and our high school. We have experienced this disease as a family district-wide. This is why our theme this year is "THEIR FIGHT IS OUR FIGHT" because family takes care of family. Although all our clubs contribute to the fundraising, the ZUAC t-shirt sales are the largest part of our efforts. We hope you will be a part of showing our #CPSZEBRPRIDE and giving hope to our ZEBRA family members. Order online at
http://bit.ly/3kJ3pSH
Print an order form from
https://5il.co/q7bb
More info at
https://www.claremore.k12.ok.us/article/413633
Thank you! 2020-21 ZUAC Committee Caroline Cowherd, Cash Flegal, Brooklyn Boatman, and Leah Kruger

👶 SHE'S HERE! 👶 Mrs. Simpson, teacher at WRJH, and her husband just added another 'lil zebra to the family! Congratulations on the arrival of their baby girl, Treylee. Your school family is so happy for you!

Students in Mrs. Proctor's 3rd grade class at Claremont work to identify verb tenses and then record them on a chart.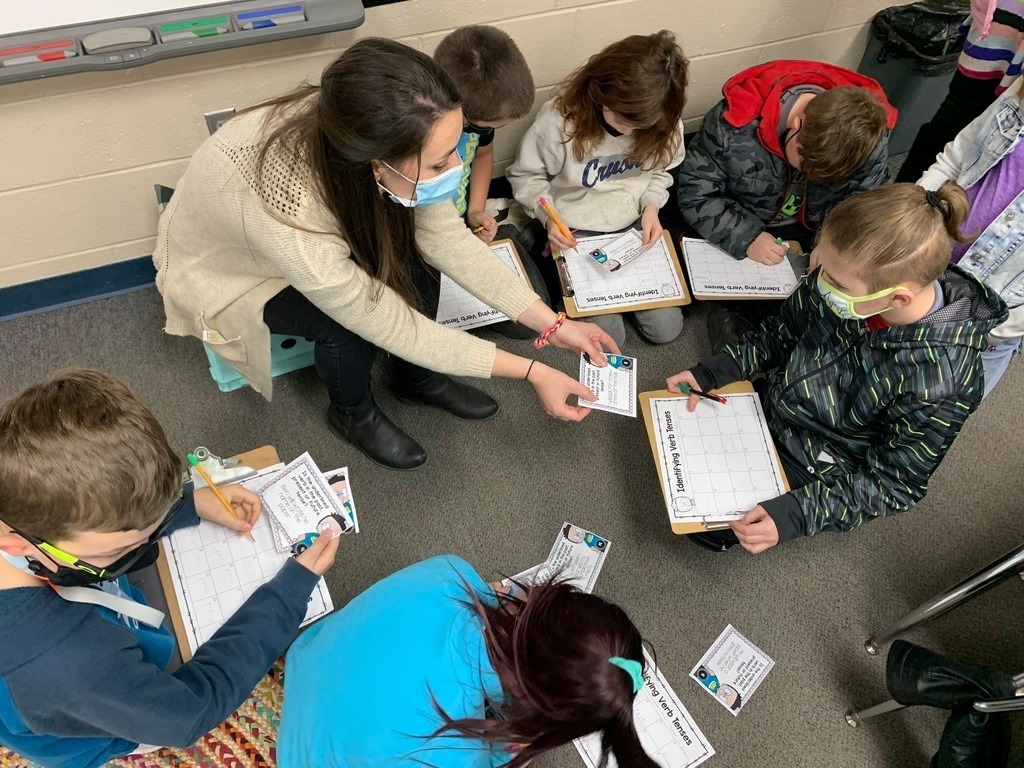 It's READ ACROSS AMERICAN WEEK Raising Readers: What Parents Can Do Learning to read takes practice. Loving to read takes enthusiasm. Read with your child often and create a sense of enjoyment, wonder, and a passion for reading. 1. Read together every day. You can read the morning news at breakfast, share a story after supper, or cuddle up for a book at bedtime. A daily reading routine is something everyone can look forward to. 2. Talk and build vocabulary. Interesting conversations build vocabulary, language skills, and knowledge about the world. Talk is a child's best source of exposure to new words and ideas. 3. Model reading. Kids want to do what the grownups do. Make sure your kids get to see you reading and hear you talk about it. 4. Point out print. Read and talk about the words you see in the world around you. There's lots to read—signs, recipes, cereal boxes, instruction manuals, bus schedules, news, maps, and menus. 5. Visit the library. Take advantage of all the books, materials, story times, programs, and resources your local library has to offer. 6. Create a reading-rich home. Find books at the bookstore or yard sales. Provide a special shelf or basket for kids to keep their own books and one for library books. Make sure there are quiet, comfortable places to read. 7. Encourage your child's reading. Praise the efforts of a soon-to-be or beginning reader. Make sure schedules of older readers include time for reading for pleasure. 8. Keep books handy. Stash books in your bag to read aloud when you travel or have to wait at restaurants or for appointments. Or keep eBooks on your phone. 9. Start reading traditions. Beyond bedtime stories, consider a special birthday book, holiday favorites, or a regular family read aloud night. 10. Let kids choose books. Offer titles that explore your child's interests, expand horizons, and offer exposure to different kinds of writing. Show them there are books where they can see themselves and books where they can see the worlds of others. 11. Make everyone comfortable. Find a spot to read together where you are both comfortable. Sometimes kids have to move around to be comfortable. 12. Be an active reader. Use expressive voices for characters, make sound effects, and point things out in the text and illustrations when you read aloud. 13. Discuss what you read. Give your child enough time to absorb the story and look at the pictures as you read. Think aloud about what you are reading and looking at and encourage your child to do the same. 14. Ask questions when you read. Ask your child to guess what comes next. Ask open-ended questions that help them relate to characters or events in the book. Let your child get involved and ask questions too–interruptions are okay! 15. Encourage re-reading. Repetition helps kids learn. Re-reading favorite books and poems helps kids make meaningful connections between themselves and books. 16. Connect reading and writing. Write your own reading material, like a story about your life, a story featuring your kids, or a story kids make up. 17. Make media matter. Connect kids with appropriate technology—videos, apps, or games that help them learn new words and interesting things about the world. 18. Get help. If you have concerns about your child's language development, hearing, or vision, see your child's pediatrician as soon as possible. 19. Make reading an experience. Link life experiences with books, like a trip to the zoo and books about animals, or planting a garden and reading The Ugly Vegetables by Grace Lin. 20. Have fun. Your idea of fun may differ from your child's, so appreciate your child's special joy for learning new things. Try different approaches, such as having them read to you or acting out a favorite story. Even something as simple as a story time outside can make reading together livelier and more memorable for you and your child. Resource: National Education Association, Published: 01/28/2021 #CPSZEBRAPRIDE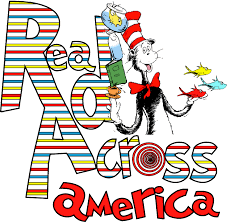 BECOMING A ZEBRA - EARLY ENROLLMENT for Pre-K & New K Who: New PK - New Kindergarten students that did not attend PK here in Claremore Schools. Date: March 8-12, by appointment. Bring: Documents required for enrollment at Claremore Schools. No child will be enrolled without the following information and up-to-date immunization records. ✅ Birth Certificate - Age Requirements are: Early Childhood students must be 4 years old by September 1st. Kindergarten students must be 5 years old by September 1st. ✅ 2 Proofs of Residency (may include utility bill or utility deposit, and a lease agreement, mortgage statement, or county tax statement. P.O. Box addresses are NOT acceptable.) ✅ Immunization Record (must be up-to-date) ✅Parent/ Guardian Driver License ✅CDIB Card (Native American citizenship registration card) if applicable. For more info go to bit.ly/2Mg8Lbv #CPSZEBRAPRIDE

🎨 Our art teachers have a passion for the art of helping students find their voice in their art. Yes, they teach technique, design, history but it's the ability to inspire the artist within that makes them great! 🎨 These projects are the product of some of our AP Art Studio students preparing for their AP portfolio submissions. #CPSZEBRAPRIDE

It's READ ACROSS AMERICA THIS WEEK and PreK/K Enrollment next week so we thought we'd share some toddler tips because it's never to early to start reading to your kids to prepare them for school. 𝒯𝒾𝓅𝓈 𝒻𝘰𝓇 𝑅𝑒𝒶𝒹𝒾𝓃𝑔 𝓉𝘰 𝐼𝓃𝒻𝒶𝓃𝓉𝓈 𝒶𝓃𝒹 𝒯𝘰𝒹𝒹𝓁𝑒𝓇𝓈 It's never too soon to start reading to your children! If your child learns early to associate reading with pleasure, they are more likely to enjoy reading on their own when they are older. Try these successful reading tips for reading to infants and toddlers: 📚 Snuggle with your child with her favorite blanket or toys as you read. 📚 Read with expression using different voices for different characters. 📚 Emphasize rhythms and rhymes in stories. Give your toddler opportunities to repeat rhyming phrases. 📚 Use pictures to build vocabulary by varying objects and their colors. 📚 Use pictures to develop speaking vocabulary by talking about what is shown. 📚 Encourage your child to repeat what you say or comment on it. Encourage your child to ask questions. Provide models of interesting questions and examples of possible answers. "I wonder what is going to happen next? I think the rabbit will get lost because he is not paying attention to where he is going. What do you think?" 📚 Look for books that are about things that interest your toddler. For example, does your child like cars, insects, or animals? 📚 Make reading a habit for bedtime, after lunch, or after naptime. 📚 Give your child a chance to choose his own books. If your toddler chooses a book that is too long to hold his attention, read some and skip some, discussing the pictures and how they relate to the story. 📚 Read stories again and again. Your toddler enjoys repetition and it helps him become familiar with the way stories are organized. Resource: National Education Association, Published: 01/28/2021 #CPSZEBRAPRIDE

Did you know that you can access your student's grades, assignments, and attendance records online? This #TechTipTuesday will show parents and guardians how to access Claremore Public School's student information system and grade portal. To access the grade portal, visit
https://ok.wengage.com/claremore
. If you don't have access to your account, please contact the CPS Wengage administrator at
lkibbe@claremore.k12.ok.us
. Accessing this system will become important in the coming weeks - so be prepared! #CPSZEBRAPRIDE
https://youtu.be/9OWnwbFEI8A

Claremore Zebras are #PUBLICSCHOOLPROUD! We are the 🩺💝 heartbeat of the community. In public schools, all children come first, all students have value, leadership matters, it preserves democracy, and changes lives. Our staff and parents use words like excellence, family, teachers who care, everyone, diversity, academics, athletics, extracurricular opportunities, whole child, educational options, innovation, accountability, social connection, etc., to describe their #CPSZEBRAPRIDE. Give us a 🏫 in the comments if you are a product of the public school. Feeling the love - feel free to share why you are #PublicSchoolProud of Claremore on our FB page.
https://youtu.be/MUaKVnRjEfc
Thank you to the site communications team members and student contributors: Chet Jenkins & Kolby Smith.

356 Days. 356 days ago was the last time your Zebs was allowed on the field. 356 days without taking anyone to the woodshed. 356 days of bottled up Claremore tradition. 356 days ends today. New players, new uniforms, same old Claremore. Don't miss today!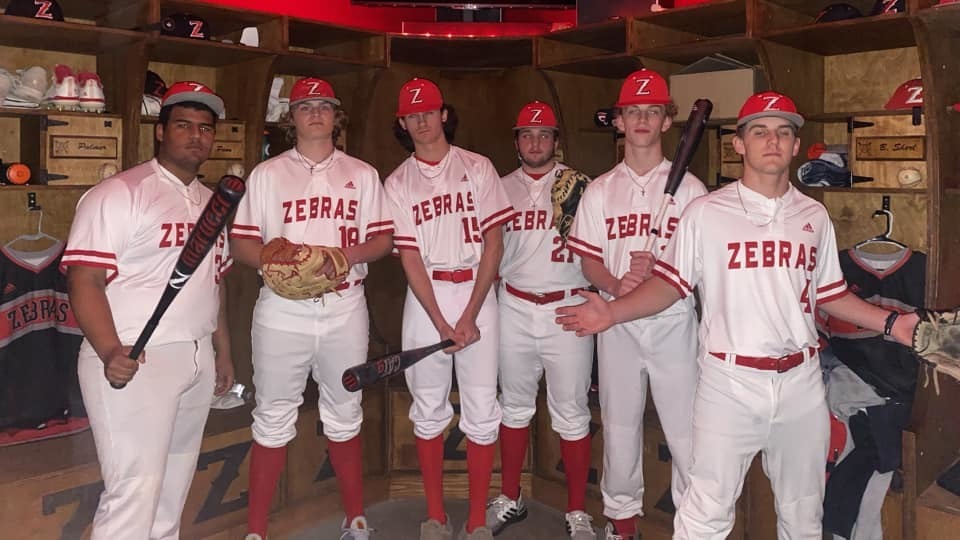 MOSAIC MATH - Can you find the area and perimeter of an object? Students in Mrs. Smith's math class created mosaics to help them find areas and perimeters. #CPSZEBRAPRIDE